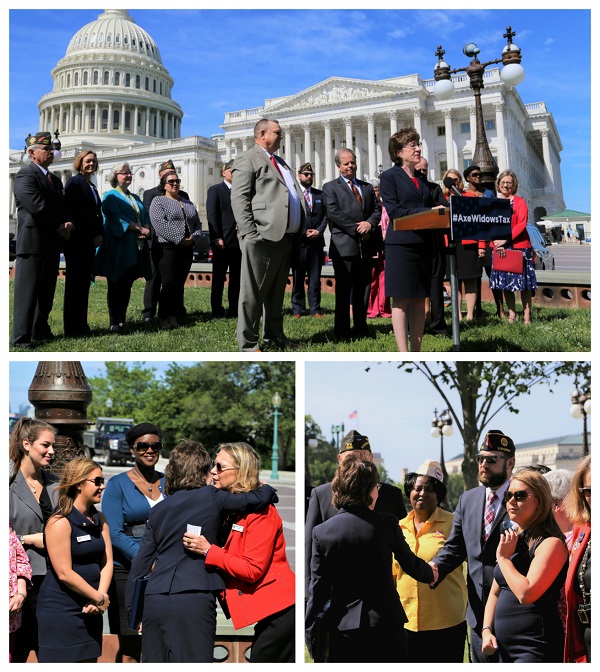 Click HERE, HERE, and HERE for high-resolution photos
Click HERE for video from the press conference.  Click HERE to download.
Washington, D.C. —U.S. Senator Susan Collins (R-ME) hosted a press conference today to highlight the urgent need to pass legislation to end the so-called military "widow's tax" along with Senators Doug Jones (D-AL), Jon Tester (D-MT), and James Risch (R-ID).  The Senators were joined by dozens of surviving military spouses and advocates for military families.
Earlier this year, Senators Collins, Jones, Tester, and Mike Crapo (R-ID) introduced the ­Military Widow's Tax Elimination Act of 2019, which would repeal the unfair law that prevents as many as 65,000 surviving military spouses nationwide from receiving their full Department of Defense (DoD) and Veterans Affairs (VA) survivor benefits.  Their legislation now has the support of 67 Senators, and a companion bill in the House of Representatives has the support of 299 Members of Congress.
"We have a duty to not only support the brave men and women in our military, but also to support their families.  It makes absolutely no sense that there is an offset that applies to military families' survivor benefits when service members used their own funds to purchase this extra insurance.  That is the inequity that we are trying to correct," said Senator Collins.  "In some cases, this leads to the total elimination of the benefit of the annuity.  In other cases, it greatly reduces it.  In either case, it is out-and-out unfair.  I am encouraged this year by the groundswell of support.  Let's make it the year we get the job done."
Military widows and widowers are eligible to receive a monthly pension through the VA's Dependency and Indemnity Compensation (DIC) if their spouse dies in the line of duty or from a service-connected cause.  Some service members also choose to purchase a special annuity called the Survivors Benefits Plan (SBP), which provides their surviving family members if they
Under current law, however, surviving members' SBP annuity is reduced by $1 for each $ received in DIC.  For some surviving spouses, this means the complete elimination of SBP, leaving them with only DIC benefits, even though they elected to pay into the SBP program.
Others in attendance at today's press conference included members of the Veterans of Foreign Wars (VFW), the Tragedy Assistance Program for Survivors (TAPS), and the National Military Family Association (NMFA).