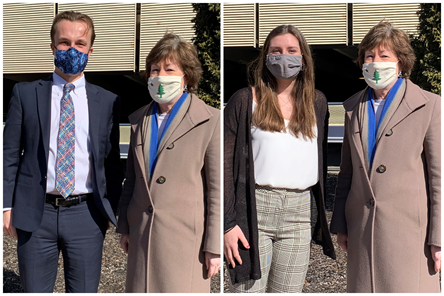 Click HERE and HERE for high-resolution photos
Portland, ME - U.S. Senator Susan Collins announced that Caleb Robinson, a Falmouth native, and Paige Rinaldi, a Freeport native, have been awarded spring internships in her Portland Constituent Services Center.  Caleb is the son of Chris and Maggie Robinson.  Paige is the daughter of Candice and Martin Rinaldi.
"Caleb and Paige are terrific students and hard workers, and I am delighted to welcome them to my Portland Constituent Services Center," said Senator Collins.  "It is always a pleasure to give students an opportunity to serve the citizens of our state."
Caleb is a sophomore at Boston University, where he is majoring in public relations.  He is a member of the sailing team and the investment club.  Following graduation, Caleb plans to pursue a professional career in sailing and hopes to compete in the 2028 Olympics.
Paige is a freshman at the University of Southern Maine, where she is studying nursing.  She is a member of the lacrosse team.  After graduation, Paige plans to become a nurse anesthetist (CRNA).