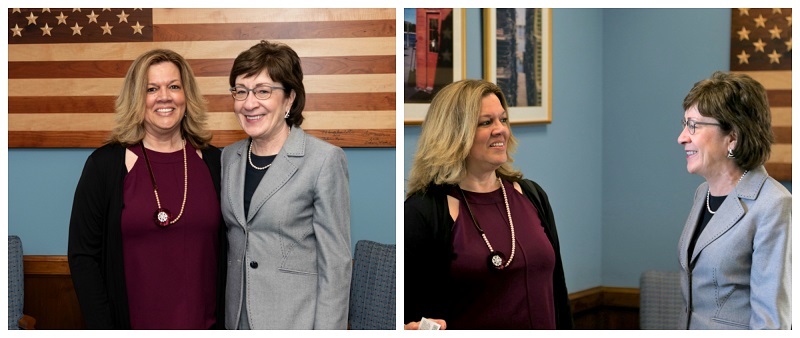 From top to bottom, left to right: Click HERE, HERE, HERE, HERE, and HERE for high-resolution photos
Coplin Plantation, ME — Today, U.S. Senator Susan Collins visited students enrolled in the Mechanized Logging Operations Program (MLOP) at an active timber harvest site in the woods of Western Maine.  Following the visit, Senator Collins met with leadership from the Stratton Lumber Mill to discuss issues facing Maine's lumber industry.
"Our timber industry is an integral part of our economy and continues to be the primary economic driver of countless rural communities throughout the State of Maine," said Senator Collins.  "It was inspiring to meet these young Mainers who are passionate about learning new skills that will propel them on a promising career path and strengthen our state's forestry sector. I've always been a huge believer in apprenticeship programs. The Mechanized Logging Operations Program is an excellent example of the type of robust workforce development we need to create and sustain good jobs."
"I wish these students all the best, but I don't think they're going to need it.  I also want to thank all the instructors, contractors, and landowners on such an impressive operation.  This program is exactly what we need to move Maine forward.  It's rare to see this kind of collaboration to make a terrific program possible," continued Senator Collins.  "I also want to congratulate Tia on demonstrating her tree harvesting skills.  What an impressive accomplishment on her second day!"
MLOP launched its latest three-month hands-on training course on June 24.  Students enrolled in the community college training program are spending the summer harvesting timber using sophisticated state-of-the-art machines like those they will encounter in the logging industry.  This summer's class of fifteen students is the third since the program launched in 2017.
Along with learning new skills, the students are taught how to navigate the industry and how to stay safe in the woods.  Students are responsible for paying for their transportation, housing, and food costs. All other expenses such as tuition and personal protective equipment are free. This is made possible by both Maine Quality Centers and Put ME to Work grants.
MLOP was created in partnership between three Maine community colleges—Northern Maine Community College, Eastern Maine Community College, and Washington County Community College—the Professional Logging Contractors of Maine (PLC), and industry partners including Milton CAT and Nortrax.
Senator Collins has cosponsored legislation to support Maine's forest products industry, including the Future Logging Careers Act, legislation to amend the Fair Labor Standards Act to allow parents who own or operate a logging or mechanized operation to employ their 16- and 17-year-old children. Under current law, workers must be at least 18 years old to work in logging since the Secretary of Labor has deemed this industry to be a hazardous occupation for minors.
In December, the 2018 Farm Bill was signed into law and included important provisions authored by Senator Collins to benefit Maine's agriculture industry.  The Timber Innovation Act established a performance-driven research and development, education, and technical assistance program for advancing mass timber building construction in the United States.  Senator Collins also cosponsored the Community Wood Energy Innovation Act, and this bipartisan bill authorized $25 million per year to support a grant program for community wood energy systems.  This legislation also provides support for initiatives to help manufacturing plants and mills produce innovative wood products, such as mass timber or wood products from nanocellulose technology.