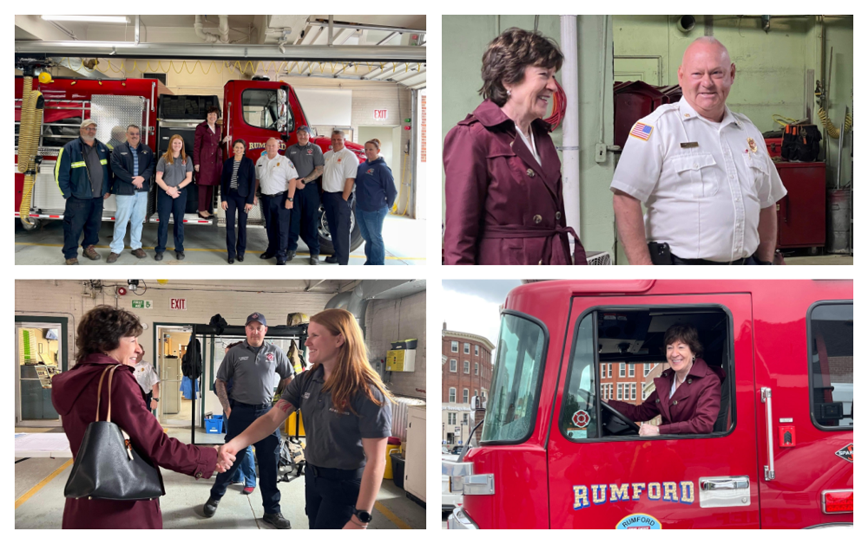 Click HERE, HERE, HERE, HERE, and HERE to download high-resolution photos
Rumford, ME – Today, U.S. Senator Susan Collins, a co-chair of the Congressional Fire Services Caucus, visited the current site of the Rumford Fire Station and met with on-duty firefighters as well as town officials.  She was also shown the serious structural issues at the current firehouse and received a briefing on the plans for the new firehouse.  Senator Collins secured $1 million for the replacement of the Rumford Fire Station in the latest government funding package.
"The Rumford Fire Department plays a critical role in protecting lives and property in the town and surrounding communities," said Senator Collins. "I enjoyed speaking with Rumford firefighters and town officials today about how the new, modern fire station will enhance the ability of the Department to respond to emergencies. The current fire station is nearly a century old and has significant structural deficiencies that pose safety concerns. As a senior member of the Appropriations Committee, I strongly advocated on Rumford's behalf to include this critical project in the government funding law."
Rumford's current Central Fire Station, built in 1923, is not well suited to house modern firefighting equipment. Additionally, the building has deep cracks in its concrete floor, foundation, and load-bearing walls, putting it at risk of structural failure.
As the Ranking Member of the Transportation and Housing Appropriations Subcommittee, Senator Collins co-authored the Fiscal Year 2022 Transportation, Housing, and Urban Development Appropriations Bill, which provided $1 million for the replacement of the Rumford Fire Station. This funding will be used to construct a new station in the Falmouth Street area to ensure that firefighters are able to meet the emergency and safety needs of the town and the surrounding communities.
Senator Collins has been a longstanding advocate for Maines' first responders. When the pandemic first hit, she led a bipartisan effort to include $100 million in the CARES Act for the Assistance to Firefighters Grants Program, emergency funding that has helped improve firefighters' safety while they continue to serve during the public health crisis. She also annually leads a bipartisan letter to the Senate Appropriations Committee urging robust funding for FEMA's firefighter grant programs, which she helped create.
###