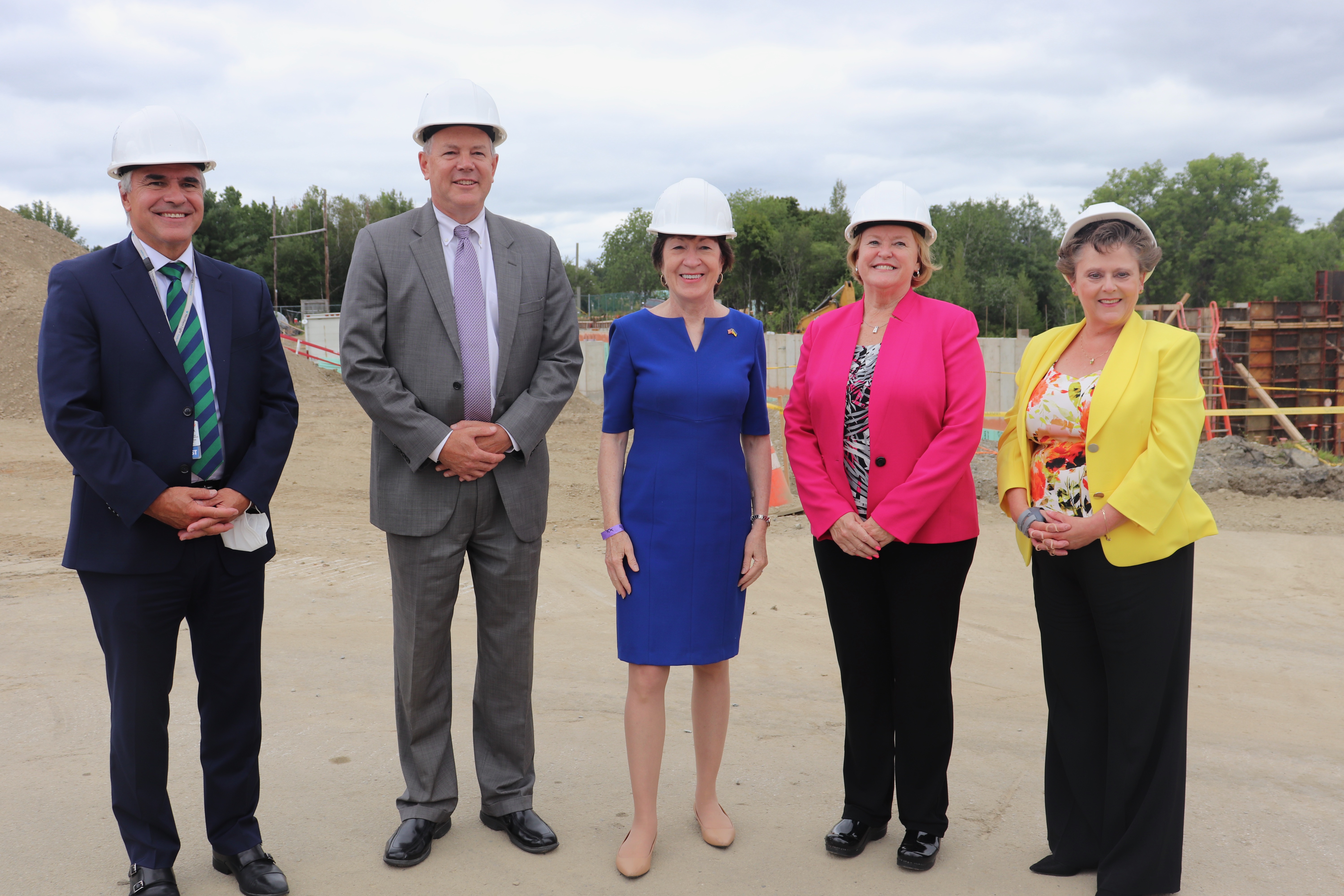 Click HERE for a high-resolution photo of Dr. John Campbell, Scott Oxley, Senator Collins, Marie Dickinson, and Lisa Harvey McPherson at Acadia Hospital construction site
Bangor, ME—This morning, U.S. Senator Susan Collins visited two Northern Light Health facilities: Acadia Hospital and Eastern Maine Medical Center.  During the visit, Senator Collins spoke with employees and hospital leaders, including President and CEO Tim Dentry, about their efforts to meet the need for behavioral health services in Maine.
More than one in four Mainers are living with a behavioral health challenge, nearly half of whom do not receive any treatment, due in part to overburdened facilities.  Acadia Hospital is one of Maine's two private psychiatric hospitals, providing inpatient and outpatient behavioral care for children, teens, and adults while specializing in the treatment of mental illness and substance use disorders.  During the pandemic, Acadia Hospital has seen a significant increase in psychiatric consultations for crises, such as suicidal behavior or attempts, self-harm, behavioral outbursts, anxiety, or substance use.
Earlier this year, Northern Light Health embarked on a comprehensive project to expand the number of mental health beds at Acadia Hospital, which includes the construction of a new inpatient wing.  To support this effort, Senator Collins recently secured nearly $3.2 million in the Fiscal Year 2023 appropriations bill, which must still be voted upon by the full Senate and House. 
"The skilled medical professionals at Northern Light Health provide quality, compassionate care to residents of eastern, central, and northern Maine.  In addition, as one of only two private psychiatric hospitals in Maine, Acadia Hospital provides essential mental health care to Mainers across the state, which has been increasingly in demand during the pandemic," said Senator Collins.  "As a senior member of the Appropriations Committee, I am continuing to advocate for funding to help Northern Light Health deliver the best possible care.  This investment in Acadia Hospital would help ensure that more people experiencing behavioral health issues receive timely, effective treatment."
There are 30 to 35 patients needing a psychiatric bed in emergency rooms in any given day in Maine, and half of those waiting are children and adolescents.  A critical lack of inpatient behavioral health beds across Maine means treatment remains elusive for many while others, including children, languish in emergency rooms for days, weeks, and sometimes months waiting for a bed at Acadia Hospital or another facility.
In February 2022, Northern Light Health launched its "Acadia For All" Campaign to increase behavioral health services at Acadia Hospital for Mainers of all ages, in all areas of the state.  Northern Light Health is working to upgrade and expand Northern Light Acadia Hospital's adult and pediatric inpatient services to help address the urgent, growing need for psychiatric care in Maine.  The project, which will create more private rooms at the facility, will improve statewide access to critically needed care.
The nearly $3.2 million Senator Collins secured in the draft appropriations bill would support the construction of a new inpatient wing at Acadia Hospital to address the lack of mental health beds in the state.  In addition, Northern Light Health would use part of the funding to replace 28 inpatient ventilators within the critical and intensive care and other high acuity care clinical areas throughout Eastern Maine Medical Center.