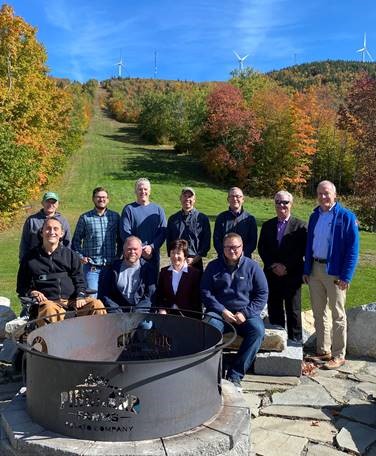 Click HERE for a high-resolution photo
Mars Hill, ME—U.S. Senator Susan Collins visited BigRock Mountain to speak with the Board of Directors, employees, and Northern Maine Development Commission (NMDC) staff about a $2.5 million grant to make improvements to the ski area.  The funding, which was awarded through the Economic Development Administration (EDA), will help replace the 50-year-old ski lift and increase snow making capacity to boost the local tourism industry.  Senator Collins strongly advocated for this investment and spoke with Commerce Secretary Gina Raimondo directly about the importance of this project.
"BigRock Mountain is a powerful economic engine for Aroostook County, contributing to the local economy and supporting jobs, small businesses, and rural communities," said Senator Collins. "I enjoyed speaking with BigRock board members and staff about their plans to improve the facility by replacing the aging ski lift and expanding snow making capabilities.  These investments will help ensure BigRock can continue to serve visitors for many years to come. With the U.S.-Canadian border now open and tourism rebounding, this federal investment in the ski area's infrastructure is especially welcome and well timed."
The EDA grant will be matched with $634,700 in local funds.  BigRock Mountain is in the midst of a fundraising campaign to raise the remaining money.  Once completed, the project is expected to create 11 jobs, retain 44 jobs, and have a long-term economic impact of $1.49 million per year.