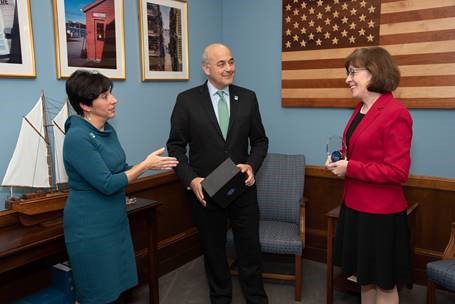 Click HERE for a high-resolution photo of Senator Collins, Mila Becker, and Dr. Rob Lash
Click HERE for b-roll of Senator Collins receiving the award
Washington, D.C. – On World Diabetes Day yesterday, U.S. Senator Susan Collins received the Endocrine Society's Diabetes Champion Award for her work to promote research and prevention efforts for people with diabetes.  Senator Collins is the co-chair of the Senate Diabetes Caucus and the Chairman of the Senate Aging Committee. 
The award was presented by Chief Policy Officer Mila Becker and Chief Professional and Clinical Affairs Officer Dr. Rob Lash.
"I was especially honored to receive this award on World Diabetes Day from the Endocrine Society, which has been at the forefront of hormone science and public health for more than 100 years," said Senator Collins.  "Since founding the Senate Diabetes Caucus in 1997, I have worked to increase funding for diabetes research from $319 million in 1997 to more than $2 billion this year.  As a result, we have seen encouraging developments in the management and treatment of diabetes.  I will continue to work hard to ensure that scientists have the funding they need to change the course of this disease."
In addition to Senator Collins, Senator Jeanne Shaheen (D-NH) and Representatives Tom Reed (R-NY) and Diana DeGette (D-CO) received the Diabetes Champion Award for their bipartisan work in reauthorizing the Special Diabetes Program (SDP) in the fiscal year 2018 omnibus funding bill.  The Special Diabetes Program consists of two components: the Special Statutory Funding Program for Type 1 Diabetes Research, which supports research on the prevention and cure of Type 1 diabetes and its complications; and the Special Diabetes Program for Indians, which supports diabetes treatment and prevention strategies for American Indian and Alaska Native populations who are disproportionately burdened with Type 2 diabetes at a rate of 2.8 times the national average.
A number of notable developments can be attributed to the Special Diabetes Program, including progress on an artificial pancreas system, which will reduce costly and burdensome diabetes complications and improve quality of life for those with the disease; discovery that intensive blood glucose control can significantly reduce the onset of impaired kidney function; and other cutting-edge research promising to change the future of diabetes.
The Endocrine Society is an international medical organization that works to accelerate scientific breakthroughs and improve health worldwide.
World Diabetes Day was created in 1991 by the International Diabetes Federation and the World Health Organization in response to growing concerns about the escalating health threat posed by diabetes.  It became an official United Nations Day in 2006 with the passage of United Nation Resolution 61/225.