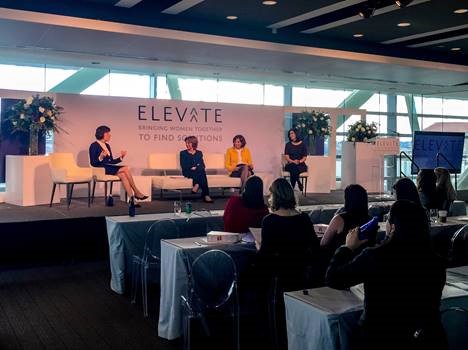 Click HERE for a high-resolution photo of Senator Collins speaking at the summit
Washington, D.C. – U.S. Senator Susan Collins, the Chairman of the Senate Aging Committee, participated in a panel at the Elevate Summit this week to address the challenges women face as they save for their retirement.  Senator Collins delivered brief remarks and answered questions from the audience.  
"Nearly half of working Americans believe that they will not have enough money to live comfortably in retirement," said Senator Collins.  "As the Chairman of the Senate Aging Committee, improving American's retirement security is one of my top priorities.  I was pleased to address the concerns of so many hard working women at the Elevate Summit."
In 2017, Senators Collins and Bob Casey (D-PA) sent two letters to the Government Accountability Office requesting that they study retirement issues related to women.  The first specifically involved retirement savings challenges unique to women while the second addressed the savings challenges faced by women who take time off from work to serve as caregivers for members of their family.  The studies are ongoing with expected completion dates in the coming year.
The Elevate Summit was an all-day bipartisan conference for women, by women to discuss the 2018 election results and issues of women's financial security.