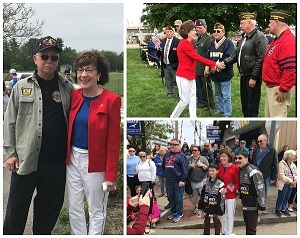 Click HERE, HERE, and HERE for high-resolution photos
Old Orchard Beach, ME - U.S. Senator Susan Collins participated in Old Orchard Beach's Memorial Day Parade and delivered remarks at a ceremony following the parade.  Approximately 3,000 veterans, their families and friends, and community members attended the event.
"Veterans, men and women of America's armed forces, honored guests, and loved ones of the fallen: I am honored to join you on this most solemn day.  This is a day when those of us who enjoy the blessing of freedom pay our deepest respects to those who gave their all to defend it," said Senator Collins during her remarks.  "The true meaning of Memorial Day is found in the eyes and hearts of our veterans – eyes that saw the courage of their fallen comrades and hearts that still mourn their loss."
Senator Collins previously attended the Old Orchard Beach Memorial Day Parade in 2008.