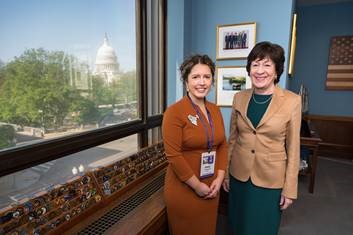 Washington, D.C. – U.S. Senator Susan Collins, a member of the Senate Education Committee, met with Kelsey Stoyanova, the 2022 Maine Teacher of the Year. Kelsey teaches eighth grade at Reeds Brook Middle School, part of Regional School Unit 22 (RSU22) in Hampden.
"Kelsey is an incredible teacher who has inspired countless Maine students," said Senator Susan Collins. "It was such a pleasure to meet with her in my office in Washington and congratulate her on receiving the prestigious Maine Teacher of the Year Award for 2022."
Senator Collins has visited more than 200 schools throughout Maine during her Senate service and has long led efforts to honor our nation's public schools and improve our education system.
In addition to teaching eighth grade, Kelsey serves as the RSU22 middle-level language arts curriculum leader. She is also a member of the Equity in Education Committee, where she designs and implements the RSU22 Reads Three Reading Challenge for students and community members.
A native of Bangor, Kelsey holds a Bachelor of Science in secondary education with an English concentration and a Master of Education with a literacy focus from the University of Maine. She is currently working toward her Educational Specialist degree in educational leadership, also at UMaine.
###