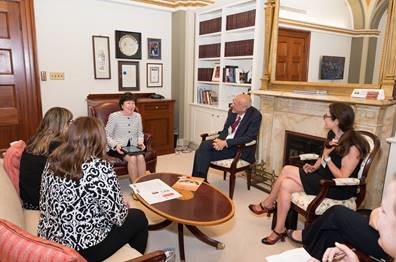 Washington, D.C. – U.S. Senator Susan Collins, a member of the Senate Health Committee, met with members of the Maine Health Care Association (MHCA), which represents approximately 200 nursing homes and assisted living facilities throughout the state. They discussed the importance of long-term care facilities in supporting the needs of seniors as well as the current health care workforce shortage.
Attendees included MHCA's President and CEO Angela Westhoff, and multiple executive directors of nursing homes and assisted living facilities, including John Bolduc (Odd Fellows' and Rebekah's Home of Maine) and Jessica Duffy (75 State Street, Portland).
"Maine has the highest median age of any state in the nation, which presents unique challenges to the state's health care workforce for meeting the needs of its aging population," said Senator Collins. "I enjoyed meeting with members of the Maine Health Care Association to discuss how we can expand the number of medical professionals across the state and keep long-term care facilities open. As a member of the Senate Health Committee, I will continue to advocate for investments that promote healthier lives and help ensure that Maine families receive the high-quality health care they deserve."
Senator Collins has led bipartisan efforts to protect the Provider Relief Fund (PRF), which has served as a lifeline to frontline health care providers that have experienced revenue losses and increased demand for their services during the pandemic. Maine received nearly $700 million for more than 2,000 providers.  Last year, a bipartisan amendment Senator Collins authored with Senator Joe Manchin (D-WV) to strengthen the PRF was adopted by a near-unanimous vote of 99-1. In September 2021, Senators Collins and Jeanne Shaheen (D-NH) co-led a group of 50 Senators in urging HHS to distribute remaining COVID-19 relief. Earlier this year, they introduced the Provider Relief Fund Improvement Act, which would support overwhelmed providers by delaying complex PRF reporting requirements until after the end of the public health emergency.  In addition, as lead negotiators of the bipartisan infrastructure package, Senators Collins and Shaheen successfully opposed attempts to slash funding from the PRF. Senator Collins also urged HHS Secretary Becerra on multiple occasions to support the Provider Relief Fund. 
###