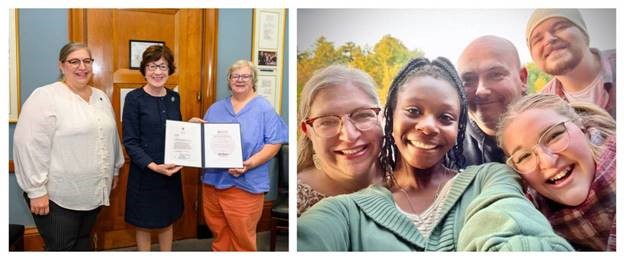 Click HERE for a high-resolution photo of Heather Crooker, Senator Collins, Cyndi Dolloff
Click HERE for a high-resolution photo of Heather Crooker's family
Washington, D.C. – U.S. Senator Susan Collins met with Cyndi Dolloff of Peru and Heather Crooker of Newburgh to congratulate them on being recognized as Angels in Adoption honorees.  Senator Collins, a member of the Congressional Adoption Caucus, nominated the women for this distinction.  November is National Adoption Month.
"Cyndi and Heather opened their hearts and their homes to children in need of stable and loving environments," said Senator Collins.  "Their selfless actions are an inspiration, and I was delighted to nominate them for this recognition."
Cyndi, Maine's 2022 Angels in Adoption honoree, started her adoption journey as a resource parent. One of the first children to join her home was a young girl who originally was going to be with Cyndi temporarily. Five years later, Cyndi adopted her. Her daughter grew up and had children of her own but faced personal challenges and had to turn to Cyndi for help raising them. One of Cyndi's grandchildren has been with her since he was two months old, and the other has been with Cyndi since she was a newborn. Cyndi adopted her grandchildren, and they are now seven and nine years old. Cyndi is a full-time single mother and caretaker who just recently retired from being a special education ed tech with behavioral students. Cyndi has shared her perspective as a kinship caregiver at training programs hosted by child welfare organizations in Maine.
Heather and her husband Mike, Maine's 2020 Angels in Adoption honorees, have been strong advocates for adoption in their community since adopting their youngest daughter, Sophie, in 2007. Heather advocates for foster and adoptive families through her work with the Adoptive and Foster Families of Maine and is an active member of her community through her work to improve diversity and inclusion in schools and in her local community.
During their meeting, Senator Collins, Cyndi, and Heather discussed the need to expand and strengthen mental health resources.  In addition, Cyndi and Heather expressed support for the Advancing FASD Research, Services, and Prevention Act of 2021 (FASD Respect Act) legislation Senator Collins co-sponsored that would advance research, increase education, and provide access to critical services for individuals affected by FASD.