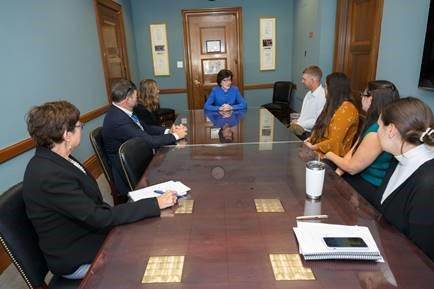 Click HERE for a high-resolution photo
Washington, D.C. – U.S. Senator Susan Collins met with Mainers representing the Appalachian Mountain Club (AMC) to discuss the Land and Water Conservation Fund (LWCF).
Senator Collins has been a longstanding champion of the LWCF.  In August 2020, the Great American Outdoors Act, landmark conservation legislation co-sponsored by Senator Collins, was signed into law, which provided permanent funding for LWCF.
"LWCF is our country's most successful conservation and outdoor recreation program," said Senator Collins. "Its funding has been used to open up key areas for hunting, fishing, and recreational access; support working forests and ranches; protect critical lands in national parks, national wildlife refuges, and national forests; and support state and local projects, from ball parks to recreation trails.  I enjoyed speaking with Mainers from the AMC about the importance of this program that helps to ensure both current and future generations can enjoy the pristine beauty of our natural resources in our state and across the country."
Representatives of the AMC included Alex and Molly London, Jennifer Scism, Carissa Bunge, and Amy Lindholm.
The AMC promotes the protection, enjoyment and stewardship of the mountains, forests, waters and trails of the Appalachian region. The Maine Chapter of the AMC was founded in 1956 and currently has more than 5,300 members.