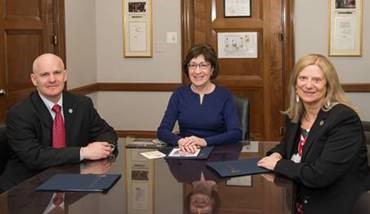 Click HERE for a high-resolution photo of Senator Collins with Kelley Kash and Deb Fournier
Washington, D.C. – U.S. Senator Susan Collins recently met with Kelley Kash and Deb Fournier, the CEO and COO of Maine Veterans' Homes, in her Washington, D.C., office to discuss the compassionate care their organization provides for veterans throughout the state.  Senator Collins is a member of the Military Construction and Veterans Affairs (MilCon-VA) Appropriations Subcommittee.
"Maine Veterans' Homes provides veterans with the high-quality care and support they have earned through their service to our country," said Senators Collins.  "I had a productive conversation with Kelley and Deb about the challenges Maine Veterans' Homes faces and ways we can work together to solve these issues, ensuring Maine's veterans continue to receive the health care they deserve."
Following Senator Collins' advocacy, Maine received a $50 million grant last year from the U.S. Department of Veterans Affairs (VA) to construct a new 138-bed facility to replace an older facility on Cony Road in Augusta.  Work on the new facility began last month and is expected to open in 2021.
Maine Veterans' Homes was established by the Maine Legislature in 1977 to provide long-term care services to Maine's veterans and eligible family members.  The organization continues to operate as an independent, nonprofit organization.  Maine Veterans' Homes has locations in Augusta, Caribou, Scarborough, South Paris, Bangor, and Machias.