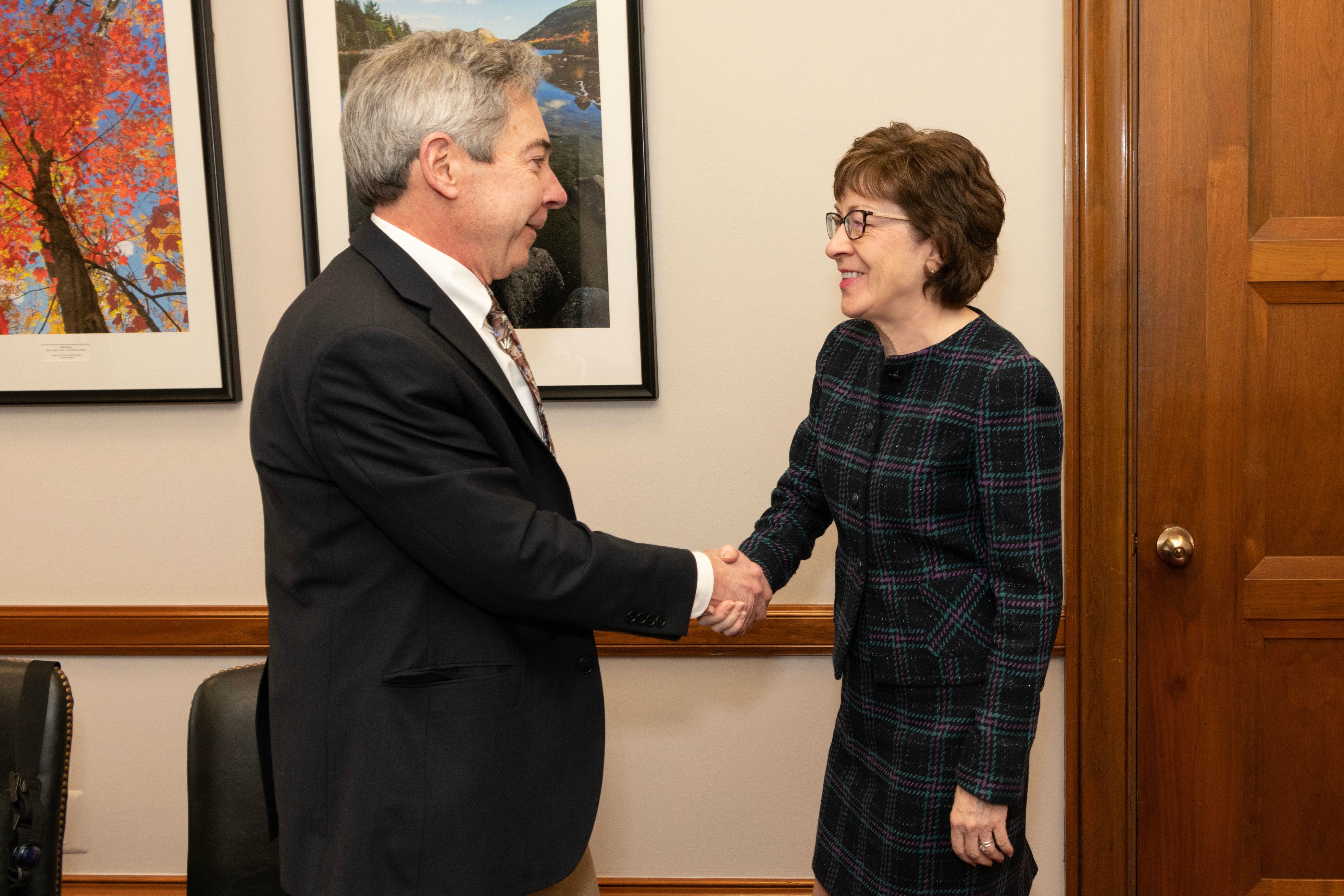 Click HERE for a high-resolution photo
Washington, D.C. — U.S. Senator Susan Collins met with Hank Berg, the General Manager of Casco Bay Lines, in her Washington, D.C., office.
"Maine's ferry services are critical components of our state's transportation system, connecting our beautiful islands to the mainland," said Senator Collins.  "As the Chairman of the Transportation Appropriations Subcommittee, I have worked to secure millions of dollars in federal funding to improve Casco Bay Lines' terminal infrastructure and purchase a replacement vessel.  Hank shared with me that they are considering a hybrid engine for the new ferry that will reduce emissions, noise, and operational costs."

Casco Bay Lines will soon commence construction work for both Phase II and Phase III of the renovation of its terminal on the Maine State Pier, which was originally built in 1988 to accommodate 500,000 passengers annually.  By 2011, nearly one million people were using the ferry service each year, which led Casco Bay Lines to embark on a multi-part renovation project to enhance both operations and passenger experience. 
As the Chairman of the Senate Transportation Appropriations Subcommittee, Senator Collins has championed funding to support Casco Bay Lines' terminal renovation project, including a $3.4 million Federal Transit Administration (FTA) grant in 2019 and a $2.5 million grant in 2016.  In 2018, Senator Collins helped Casco Bay Lines obtain a $6 million grant from FTA's Passenger Ferry Grant Program for the construction of a replacement vessel for its ferry service to Peaks Island.