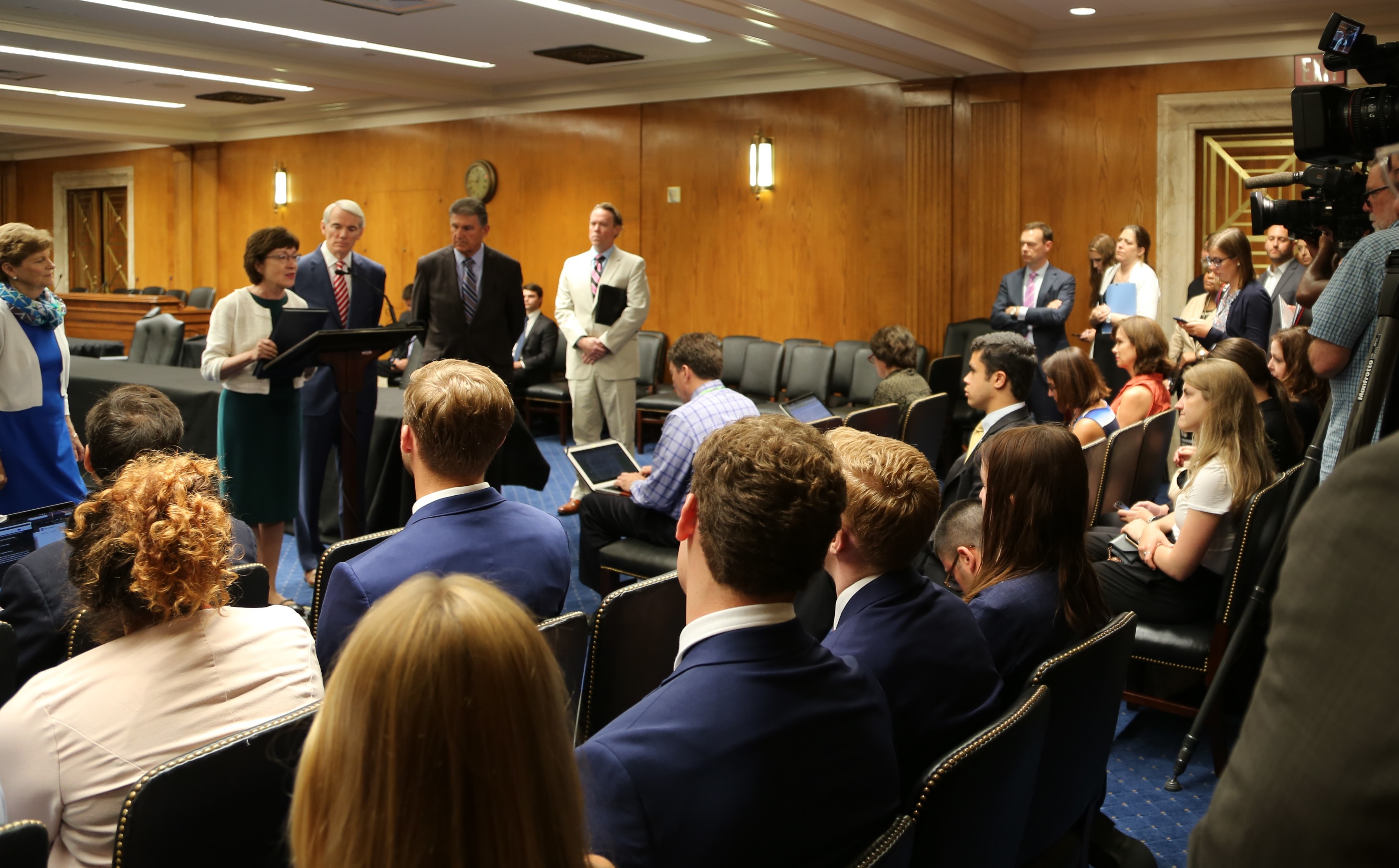 Click HERE for a high-resolution photo
Washington, D.C. — Today, U.S. Senator Susan Collins (R-ME) joined Senators Rob Portman (R-OH), Jeanne Shaheen (D-NH), and Joe Manchin (D-WV) in introducing the Energy Savings and Industrial Competitiveness (ESIC) Act.  This bipartisan bill would improve energy efficiency in three key sectors—buildings, industrial, and the federal government.  The legislation is also cosponsored by Senators Chris Coons (D-DE), Roger Wicker (R-MS), Michael Bennet (D-CO), and Maggie Hassan (D-NH).
The American Council for an Energy-Efficient Economy has estimated that the building codes section of the ESIC Act alone would save consumers nearly $13 billion in energy costs annually and cut carbon dioxide emissions by the equivalent of taking approximately 11 million cars off the road in 2040 alone.
This legislation uses a variety of low-cost tools to help energy users become more efficient while making the country's largest energy user – the federal government – reduce its energy use through energy-efficient technology.  The bill incentivizes efficiency technologies that are commercially available today, can be widely deployed across the country, and quickly pay for themselves through energy savings.  It would help the United States transition to a more energy-efficient economy while driving economic growth and private-sector job creation.
"Encouraging the adoption of energy efficiency measures is one of the easiest yet most effective mechanisms for reducing energy consumption, lessening pollution, and ultimately saving families, businesses, and the federal government money," said Senator Collins.  "As a long-time proponent of efforts to improve energy efficiency, I am pleased to be an original cosponsor of this legislation.  I would like to congratulate the bill sponsors, Senators Portman and Shaheen, for updating and reintroducing this bipartisan, commonsense bill."
"This bill is a win-win, creating new jobs and protecting our environment—all without a single new tax or mandate," said Senator Portman. "It would reduce our carbon emissions and give our workers in Ohio and around the country a competitive advantage by making our plants and buildings more energy efficient. It's good news for the taxpayer, too, because it would make the federal government practice what it preaches and use energy more efficiently. And by saving consumers billions in reduced energy costs, it will help reduce the cost of living, ensuring hard-working Americans have a few dollars extra at the end of each month that they can use to pay for needed expenses, invest in their child's college education, or save for retirement. There is a reason this bill has garnered such widespread support. The Senate should take it up as soon as possible."
"Energy efficiency is the cheapest and fastest way to approach our economy's energy independence," said Senator Shaheen. "This bill provides a path forward to making significant progress on reducing carbon emissions in order to address climate change. It's a win for jobs, consumers and the environment. Congress should seize this opportunity. Over the last couple years the Senate has made incremental progress on energy efficiency issues, and I hope we can continue to build on those efforts. Once again, it's a great pleasure to work with Senator Portman on energy efficiency."
According to the U.S. Energy Information Administration, residential and commercial buildings accounted for approximately 40 percent of total U.S. energy consumption in 2018.  In addition, reports from the U.S. Department of Energy have found that the federal government is the largest single energy consumer in the country.  By improving energy efficiency in these three key sectors, this legislation will help reduce emissions, protect the environment, and create jobs.  The legislation also includes important provisions to reduce water usage and promote water conservation.
Components of the ESIC Act were signed into law by President Obama in April 2015 and are already helping individuals and companies use less energy, creating jobs and reducing emissions. Taken together, these bipartisan reforms include common-sense initiatives that will create new jobs and help the economy by saving consumers billions annually in reduced energy costs. 
Click HERE for a one-page summary of the ESIC Act.