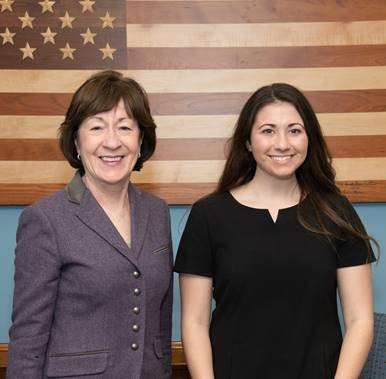 Click HERE for a high-resolution photo
Lewiston, ME — U.S. Senator Susan Collins announced that Ellen Wainwright, a Canton native, has been hired as a staff assistant in her Lewiston Constituent Services Center.  Ellen previously worked as an intern in Senator Collins' Bangor, Lewiston, and Washington, D.C., offices. She is the daughter of Christopher Wainwright, the Oxford County sheriff, and Erin Wainwright of Canton. 
"Ellen demonstrated a strong work ethic and a strong commitment to providing excellent constituent service through her internships in my office," said Senator Collins.  "I am delighted that she will continue to serve Mainers as a member of my staff in Lewiston."
As a staff assistant, Ellen will help Mainers with federal issues and agencies, such as the Social Security Administration, the Department of Veterans' Affairs, and the Internal Revenue Service.
Ellen is an alumna of Dirigo High School, and she graduated from the University of Maine at Orono in May 2019 with a degree in political science.