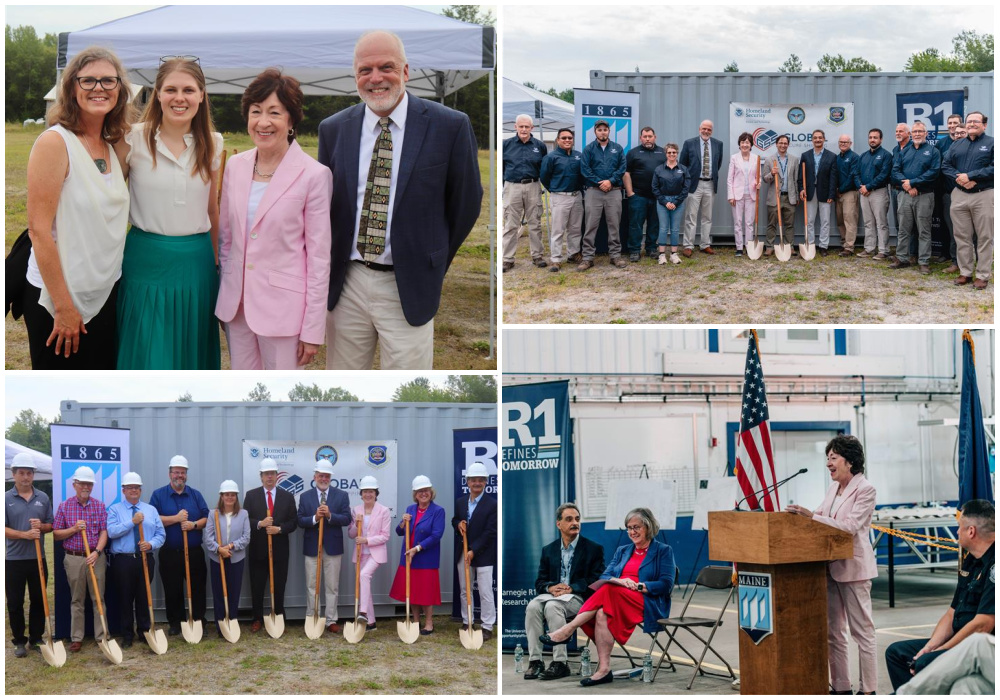 Click HERE, HERE, HERE, and HERE for high resolution photos.
Old Town, ME – Today, U.S. Senator Susan Collins delivered remarks at the groundbreaking of Global Secure Shipping's (GSS) new manufacturing facility in Old Town. The 15,000 sq. ft. expansion will allow for the production of additional models of secure containers used in the shipping industry.
GSS's patented, durable and cost-effective technologies enable government and commercial companies to fight theft and tampering by transnational criminal organizations and minimize loss of real and intellectual property.
"The project we celebrate today is about seaport security, but it also is about transitioning from research and development to manufacturing to create new industries, with new opportunities and good jobs. Global Secure Shipping is in the vanguard of that transition," Senator Collins said. "Most of all, this is about the innovative spirit of Maine and our maritime heritage, with our University, GSS, local machine shops, and tradespeople joining together to achieve something truly remarkable."
"GSS and the secure contained production operation in Maine would not have been possible without the support and leadership from Senator Collins," said GSS CEO Bob Lindyberg. "At nearly every stage in the journey from the initial concept and research on secure shipping containers to the recent production scale up activity."
GSS was founded in 2018 as a spinoff company from UMaine to commercialize the hybrid composite secure shipping container developed by UMaine with Department of Homeland Security funding to meet port security requirements in the Safe Port Act of 2006, a law Senator Collins championed.  Additionally, Senator Collins helped secure the funding that supported UMaine's development of this innovative technology, as well as additional funding from the Department of Homeland Security for continued production and research and development at GSS. As Vice Chair of the Appropriations Committee, Senator Collins continues to advance funding for Secure Hybrid Composite Intermodal Container research, development, and production.
###