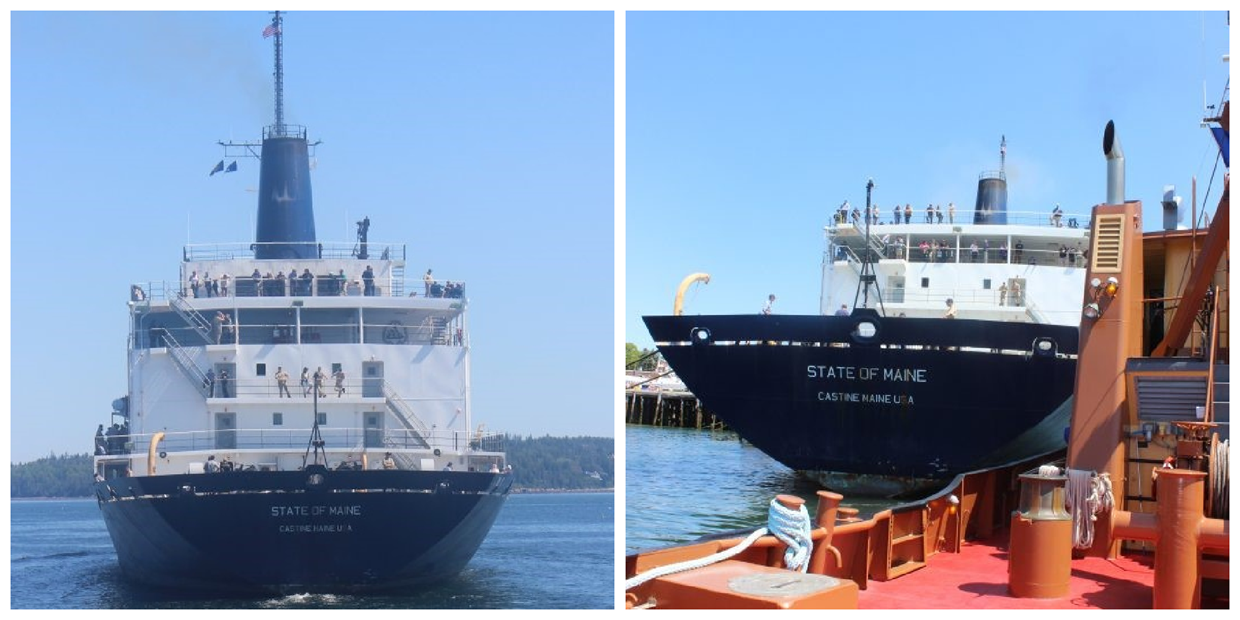 Click HERE and HERE for photos of the current MMA training ship with the home port designation of Castine, Maine.  A misguided proposal would have changed the home port on the replacement vessel to Norfolk, Virginia.
*VIDEO: Click HERE to watch Senator Collins question Secretary Buttigieg about MMA's hailing port designation in April
Washington, D.C.—U.S. Senator Susan Collins announced today that, following her advocacy, Maine Maritime Academy's new training vessel, the State of Maine, will proudly bear the designation of Castine, Maine, as its home port.  The U.S. Maritime Administration (MARAD) had initially proposed labeling all new training vessels for state maritime academies as hailing from Norfolk, Virginia.  As the Ranking Member of the Transportation Appropriations Subcommittee, Senator Collins strongly pushed back against this policy and was successful in convincing the agency to reverse course.   
"The State of Maine training vessel is a great source of pride for Maine Maritime Academy and for the students and instructors who serve as the ship's crew," said Senator Collins.  "MMA's training vessels have always borne the home port of Castine, Maine, on their sterns, carrying Maine's rich maritime heritage to ports around the world.  MARAD's initial plan to designate the State of Maine's home port in Virginia not only defied logic, but it was also a disservice to MMA's exceptional instruction of generations of sailors in our state.  MARAD's decision to change tack and adhere to its historical precedent is a victory for common sense and home state pride."
"Maine Maritime Academy extends its sincerest gratitude to Senator Collins for her leadership on this matter which has ensured the continuation of the pride that we have had for 80 years here in Castine as our home port," said Jerry Paul, President of Maine Maritime Academy.
In 2019, Senator Collins secured $300 million for the construction and acquisition of a new training vessel for Maine Maritime Academy to replace the college's existing training ship that is nearing the end of its serviceable life.  This ship is used to provide rigorous instruction and crucial maritime training, and it is indispensable for preparing students to excel in the Navy, the Coast Guard, and the maritime industry.
The stern of MMA's current training vessel designates its home port as "Castine, Maine."  Earlier this year, however, Maine Maritime Academy informed Senator Collins that MARAD was planning to designate the home port for the new State of Maine as Norfolk, Virginia.  This labeling change had already impacted the new training ship for the State University of New York Maritime College.
At an Appropriations hearing in April, Senator Collins raised this issue to Transportation Secretary Pete Buttigieg.  In response, Secretary Buttigieg pledged to Senator Collins that he would, "continue to be in touch with your office and to work with you on this because I know it's of great interest to the state academies and [I] understand the importance of the issue."
Senator Collins also spearheaded a letter to Secretary Buttigieg that was signed by her colleagues from Texas, California, New York, and Massachusetts, which host state maritime academies that would also have been affected by this home port designation issue.  Their letter directed MARAD to ensure that the training vessels funded by Congress display the home port as is currently shown on each state maritime academy's training vessel.
As a result of this coordinated effort led by Senator Collins, MARAD is revising the hailing ports on the training vessels to reflect the locations of the respective colleges. 
###