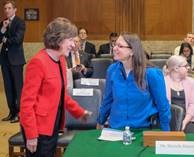 Click HERE to read Ms. Dehetre's testimony.
Click HERE to read Senator Collins' opening statement.
Click HERE for b-roll of Senator Collins and Ms. Dehetre.
Click HERE to watch Ms. Dehetre's testimony.  Click HERE for high-quality video.
Click HERE to watch Senator Collins' opening statement.  Click HERE for high-quality video.
Washington, D.C.— While driving with two of her sons in the car last week, Michelle Dehetre, a mother of five from Lewiston who has Type 1 diabetes, had a frightening experience that has become all too common for her: she began to feel very faint.  Fortunately, no one was injured, and paramedics quickly arrived on the scene to take her to the emergency room. 
Ms. Dehetre is one of the millions of Americans who struggle to purchase the medications they need to maintain their health.  Ms. Dehetre struggles to pay for the insulin she needs, and she cannot afford a continuous glucose monitor and pump that would help manage her diabetes, resulting in life-threatening emergencies every month.
U.S. Senator Susan Collins, the Chairman of the Aging Committee, invited Ms. Dehetre to testify at a hearing she held today on efforts to improve the affordability and accessibility of prescription drugs.  Today's hearing featured five patients, including Ms. Dehetre, who shared their stories to underscore the real world effect that skyrocketing drug costs have on many Americans' finances as well as their overall quality of life.  Senator Collins will also chair a hearing tomorrow that will explore policy solutions to lower the cost of drug prices.
"Ending up in the ER always scares me, not only because I know it's a close call, but because on top of my medicine, I cannot afford another medical bill," Ms. Dehetre told Senator Collins' Committee.  "The money I am spending on diabetes treatment already is too much.  In addition to buying food for six people, paying the electric bill, and covering rent, the $300 per month for my diabetes medicine is a major financial strain.  I cut back on spending whenever I can.  I am always looking for ways to save money on food and gas and sometimes fall short at the end of the month."
"For some conditions, prescription drugs represent a lifeline that allow individuals to live, breathe, eat, and sleep.  But in the face of rising costs, these therapies are becoming increasingly out of reach for those who need them most.  Prescription drugs don't work for those who cannot afford to take them," said Senator Collins.  "Addressing the rising costs of prescription drugs is a top priority for this Committee.  As Michelle's story demonstrates, Americans encounter tribulations every day because the drug they need carries a prohibitive price tag – causing them to stretch or skip doses, settle for an alternative that works poorly, or simply go without.  I am so grateful to Michelle and each of our witnesses for their willingness to share their experiences."
Despite working full time and having insurance, Ms. Dehetre pays approximately $300 each month on insulin, syringes, and test strips.  She is not able to afford the necessary supplies for a continuous glucose monitor and pump, which would cost $1,500 every three months.  She has had to reduce spending on items such as groceries to be able to afford her insulin (Lantus and Humalog at about $50-$75/vial), and she continuously worries that the next diabetic episode could be fatal.  Ms. Dehetre told the Aging Committee, "my dream is to see my 11-year-old son graduate high school."
In a recent letter addressed to Senator Collins, Dr. Irwin Brodsky, the Diabetes Medical Director at Maine Medical Partners Endocrinology and Diabetes Center, expressed his support for the Aging Committee's efforts to make life-saving treatment more available to people with diabetes.
"I have patients who experience loss of consciousness from low blood sugar three or four times per week. One such patient asks her children and coworkers to pour sugared liquids in her mouth in lieu of calling an ambulance or giving a rescue injection of the hormone glucagon," wrote Dr. Brodsky.  "Clearly, the [Aging] Committee is addressing a very important problem by investigating ways to reduce the cost of diabetes medical therapies and therapeutic technologies. For this, I would like to express my gratitude. Lower prices would go a long way toward assuring appropriate and undisrupted treatment for people with diabetes."
+++
Senator Collins has made it a priority to lower the soaring costs of prescription drugs.  In 2015, Senator Collins and then-Senator Claire McCaskill (D-MO) launched the Senate's first bipartisan investigation into the causes, impacts, and potential solutions to egregious price spikes for certain off-patent drugs.  They released a report on their investigation in 2016.  Following their investigation, Senators Collins and McCaskill authored a bill to improve generic competition and lower the cost of prescription drugs that was signed into law as part of the FDA Reauthorization Act.
Following reports on the skyrocketing price of insulin, Senator Collins chaired a hearing in May 2018 on the reasons for the price spikes and the impacts that these increases have on patient access.  In addition, in November 2018, Senators Collins and Jeanne Shaheen (D-NH), the co-chairs of the Senate Diabetes Caucus, wrote to the three largest insurance companies—United Healthcare, Anthem, and Aetna—requesting information on insulin prices and rebates.
In October 2018, Senator Collins' legislation to prohibit the use of pharmacy "gag clauses" was signed into law after passing both the House of Representatives and the Senate with overwhelming bipartisan support.  The Patient Right to Know Drug Prices Act and the Know the Lowest Price Act prohibit an egregious practice that concealed lower prescription drug prices from patients at the pharmacy and caused consumers to needlessly overpay.
This week, Senator Collins introduced the Biologic Patent Transparency Act to block harmful patent strategies that block new drugs from coming to market.