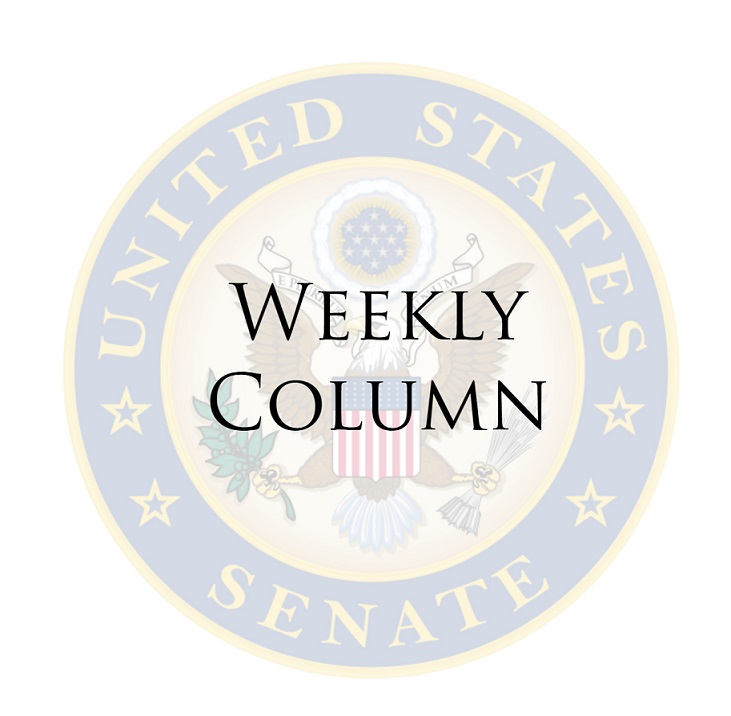 When President Abraham Lincoln established a national network of hospitals for veterans at the close of the Civil War in 1865, the very first of those hospitals was here in Maine, at what is now called Togus.  Today, Maine is home to more than 127,000 veterans, more veterans per capita than all but two other states in the country.  We are proud of our State's contributions to protecting our nation and to caring for those who serve.
It was a particular pleasure to host Veterans Affairs Secretary Robert Wilkie here in Maine recently to participate in multiple events focused on veterans.  Each of our stops emphasized different ways of supporting those who have served.   Throughout the day, Secretary Wilkie and I met with dozens of Maine veterans and discussed ways to improve veterans services and ensure they are receiving the high-quality health care that they deserve.
We began by visiting Easy Day in South Portland for a great lunch.  This restaurant and bowling alley are owned by Chris Tyll, a former SEAL who served four tours in Iraq before retiring from the Navy in 2009.
Secretary Wilkie and I then joined the rest of the Maine Delegation and Governor Janet Mills at a groundbreaking ceremony for Maine Veterans' Homes new facility in Augusta.  Once the project is completed, Maine Veterans' Homes will be able to provide care in a home-like setting to 138 veterans, who will each have a private room and a private bathroom.  The state-of-the-art building will be equipped with the latest technology and will offer a range of treatments, from short-stay nursing and rehab to long-term memory care.  As a senior member of the Appropriations Committee, I helped secure funding for the construction of this new veterans' home.
Secretary Wilkie and I concluded our day by touring Cabin in the Woods, a project led by Volunteers of America Northern New England to provide permanent housing for homeless veterans.  The community of 21 cabins is situated on 11 acres at the VA Togus campus and focuses on helping veterans find employment, rebuild families, and achieve stability and independence.
"Our visit to Cabin in the Woods capped a productive day meeting with community and state leaders and discussing important matters for Maine's veterans," said Secretary Wilkie.  "The work done here illustrates that we work most effectively in partnership – community, state and federal organizations collaborating to help veterans get the services they have earned."
During his confirmation hearing to become VA Secretary last year, Secretary Wilkie related how the combat experiences of his great-grandfather in World War I and his father's long and difficult recovery from wounds he received in Vietnam impressed upon him, as he put it, "the cost paid by ordinary Americans caught up in the incommunicable experience of war."  As the daughter of a World War II veteran who carried the wounds he sustained at the Battle of the Bulge throughout his life, I greatly appreciate Secretary Wilkie's personal commitment to our veterans.  From his family's long tradition of military service to his own distinguished contributions to our country both in uniform and in civilian roles, he brings invaluable insight to the challenging position of VA Secretary.
As a member of both the Defense Appropriations and Veterans Affairs and Military Construction Appropriations Subcommittees, I have pushed for policies to strengthen our nation's commitment to members of our military, veterans, and their families, such as supporting military caregivers, improving health care for veterans, and fighting to ensure continued funding for veterans homelessness programs. 
Following my advocacy, legislation signed into law last fall included $865 million for the VA Caregiver Program.  This program, which supported caregivers of post-9/11 veterans, will be expanded in the coming years to include pre-9/11 veterans and their caregivers.  That legislation also includes my provision to ensure veterans in rural areas maintain convenient access to health services close to their homes, which is based on the highly successful ARCH program pioneered here in Maine.
Earlier this year, Congress passed and the President signed into law legislation I co-authored that provides $40 million for new HUD-VASH vouchers to reduce veterans' homelessness.  Since the program was first established in 2008, Maine has received 238 vouchers to support homeless veterans.  These efforts have contributed to homelessness among veterans declining by 49 percent since 2008.
In the land of the free, there must always be a home for the brave.  The people of Maine honor the courage and sacrifices of those who defend our freedom not just with words, but also with actions -- just as President Lincoln did when he established what became the first VA hospital here more than 150 years ago.