The construction that would normally take more than a year will be finished in a matter of weeks
Senator Collins joined the announcement in Pittsfield today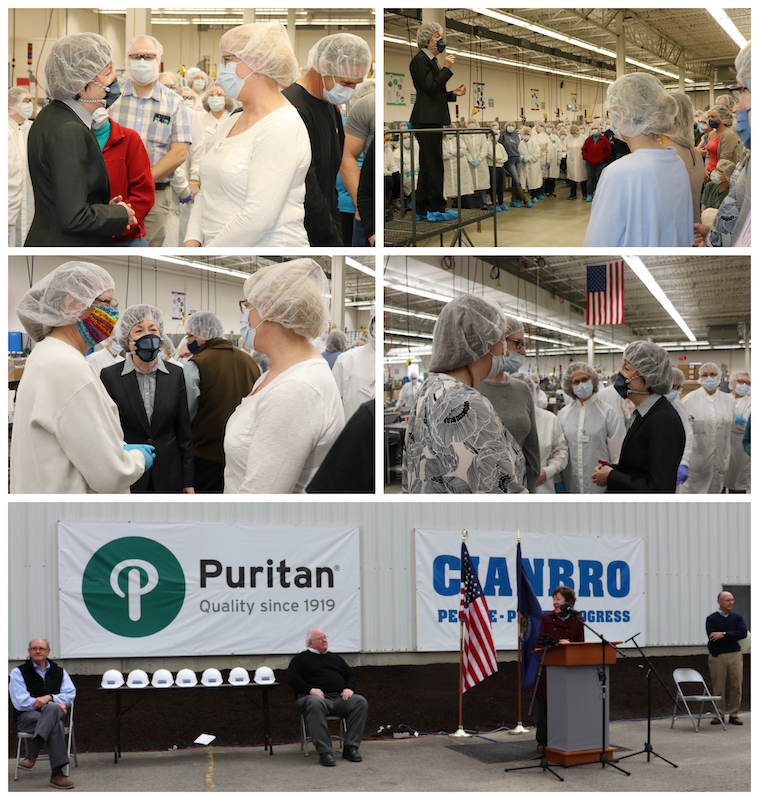 Click HERE, HERE, HERE, HERE, and HERE for high-resolution photos.
Pittsfield, ME—U.S. Senator Susan Collins joined leaders of Puritan Medical Products and Cianbro today to announce a new manufacturing partnership that will double Puritan's production of testing swabs from 20 million per month to 40 million per month.  Bath Iron Works will be supplying 30 of the 40 machines needed to make the new swabs.  
Puritan was awarded $75.5 million through the CARES Act, which included $1 billion for the Defense Production Act in order to increase domestic production capacity for materials necessary to combat COVID-19.  The funding will be used to convert a 95,000 square foot warehouse owned by Cianbro into a modern manufacturing facility.  The company plans to add 150 people to their current 500-person workforce to staff the new factory.  Puritan and its subcontractors are committed to working around the clock to be sure the new plant is ready to start production by the end of May.
"This project is an extraordinary one that is going to make a real difference to the people of this country as we seek to ramp up the production of swabs, which is absolutely essential to coronavirus testing," said Senator Collins.  "Earlier today, I had the great pleasure to tour Puritan Medical Products' facility in Guilford.  The employees of Puritan were so energized, so dedicated, so hardworking, and so caring.  They understood just how important the work they are doing is to the health and safety of our country."
"I am so proud of this collaborative effort involving Cianbro, Puritan, and Bath Iron Works, who are stepping up during this very difficult time in the history of our country, and I am even prouder of their employees,"Senator Collins continued.  "We are proving once again that Maine-made is best-made.  It is inspiring that this manufacturing that is so critical to our country is occurring right here in our great state.  The sooner we can expand testing, the sooner we can help reduce the spread of the virus and safely reopen our economy."
This morning, Senator Collins visited Puritan's existing manufacturing facility in Guilford to thank the employees for all of their hard work producing testing supplies that are vital to help reduce the spread of COVID-19 and safely re-open the economy.  Senator Collins also toured the manufacturing facility.